Jan
20

January 20, 2010 |

Leave a Comment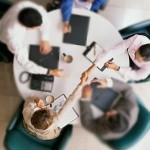 More and more small to mid-size businesses worldwide are becoming first time outsourcers  as more and more smaller firms in the United States and Europe are making inquiries, forging connections and pilot projects in off-shore destinations in Asia.
Despite efforts to discourage US companies to send jobs offshore, evidence suggests an increasing number small-to-medium enterprises (SMEs) in the country cut costs by outsourcing to destinations such as India.
Mid-size business process outsourcing (BPO) providers, whom SMES would prefer to deal with due to better attention and more customized services, benefit from this trend.
Some analysts expect the trend of SME outsourcing gains momentum this 2010.
Investment advisory firm Tholons said the primary reasons for this were cost optimization and better synergy between core competence and market requirements.
Service providers in India and Asia will improve on their services to assist SMEs as these businesses are still usually new to the service model offshore outsourcing.
References:
Sujit, John. "Small US firms offshoring more." 14 January 2010. The Economic Times of India. Accessed 17 January 2010. Link Here
Sujit, John. "Mid-size IT cos to gain as US firms offshore more." 13 January 2010. The Economic Times of India. Accessed 17 January 2010. Link Here

Outsourcing Solutions, Inc. – the outsourcing partner to small-to-medium businesses!
Comments
Recommended Providers
Recommended Articles
Ask the Expert
Please
click here
or send an email to
jeff@outsourcing.ph
with your questions about outsourcing.