Mar
6

March 6, 2009 |

Leave a Comment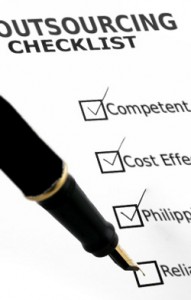 Offshore outsourcing for IT services and software development can help cut down cost through low-cost destinations, augment staff with the qualified human resources the world can offer and faster time-to-market via 24/7 production.
For example, your project's development is on-going in another time-zone while you sleep.
However, the choice of the suitable outsourcing vendor for your business is first and foremost before engaging into a contractual agreement.
Use this checklist to evaluate your potential outsourcing engagement.
Define the scope of your outsourcing contract and stipulate your expectations from your outsourcing vendor that can be considered deliverable.
Consider and check for:
ο Why Outsource?
ο What to Outsource?
ο What are the expected benefits?
ο Who drives the Outsourcing Initiative?
ο When to regularly evaluate the outsourcing performance, progress and accomplishments?
Do Due Diligence. Apply a "religious" reference check on all your  potential outsourcing vendors.
ο Acquire reliable information and testimonials from present and previous clients of the outsourcing vendors for analysis how reliable these do business.
ο Inquire specifically for how these outsourcing vendors on your short-list mitigate and manage project challenges.
Define metrics for success in a  discussion between the stakeholders and the selected outsourcing vendor.
ο Do not isolate the outsourcing vendor in regards to such important matters.  It is detrimental for the success of the relationship.
ο An experienced outsourcing vendor can validate success metrics.
ο Transparency is a good policy to implement in the outsourcing engagement. This promotes trust and awareness to quickly address troublesome issues if these arise.
Define the project requirements and implement systems for tracking who provides and who receives these  requirements.
ο Many outsourcing relationships fail due to mismanagement of such requirements.
Implement a system to monitor and manage the project schedule.
ο Project reports and reviews should be performed regularly on both the vendor's end as well as the client's end to evaluate and ensure that the project is meeting milestones in the schedule.
ο A stable, experienced vendor can provide several systems that a client can choose.
Engage in a transparent yet protected knowledge transfer with your outsourcing vendor
Include in the knowledge transfer the following:
ο Design documents
ο Coding Guidelines
ο Problem and resolution options
ο Installation instructions and architecture that can facilitate the knowledge transfer and enable the client team to deploy and support software
Achieve an agile mode of development with continuous testing
ο For faster time-to-market for your product, continuous testing with QA through development is the best recommendation. This can be provided by the most stable outsourcing vendors.
ο Document religiously the product's development process.

Outsourcing Solutions, Inc.
– your outsourcing partner!
Comments
Recommended Providers
Recommended Articles
Ask the Expert
Please
click here
or send an email to
jeff@outsourcing.ph
with your questions about outsourcing.