Oct
21

October 21, 2008 |

9 Comments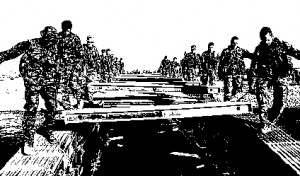 The bridge.
More than just a convenience of conveyance. More than a product of human ingenuity and endeavor. It is a testament of humanity's ability to overcome obstacles be it a stream, a river, a gorge or even a sea. It also symbolizes the human need to connect to each other, to travel and for the benefit of this article, to trade.
In the natural world, some marine species such as starfishes, squids, octopi and hermit crabs can lose limbs during situations of stress or under duress like being attacked by a larger predator in order to escape. On land, some worms, insects and even some small lizards can lose limbs or tails then later have these re-grown.
A similar escape or survival mechanism is used by people, throughout history, in many civilizations. For example, during war or an invasion, provinces are left off, roads blocked and bridges burned to slow the progress of invasion.
In the corporate world, companies and enterprises during a downturn would cut down departments and budgets as an immediate solution at times in a casual fashion in order to reduce costs and keep financial margins above the red line.
One of the usual areas to be reduced is marketing departments, promotional and advertising spending. These are often seen to be unnecessary since during downturns, most consumers become tighter with their wallets and purses or even nearly dormant in their spending.
However, experts in global advertising frown upon such a corporate practice since cutting down on advertising would bring on immediately an adverse effect on your company's brand. Instead, your marketing plans and advertising campaigns should be reinvented, made more creative and aggressive in order to sustain your customer market while protecting the bottom line.
Companies that have cut back expenses in some departments but persist in promoting their products and services– like Proctor & Gamble, Pepsi, and Pizza Hut— are known to have survived past crises and grown in spite of these.
The moral of these companies' success stories over strained circumstances is: Don't burn bridges, build more.
It is projected that perseverance in promoting your products will pay off in the end, as your company will remain pertinent maybe even popular with consumers. After all, downturns do not last forever.
This is an excruciating challenge as well as an expensive one. Some upscale department stores are enacting desperate measures, such as transforming their place of business into entertainment spots, offering high value gift cards for every USD1000 purchase and aggressive markdowns like at 60 percent for fall items as attractions.
But that doesn't have to be the case.
There are cheaper alternatives in attaining aggressive marketing and advertising campaigns. Web marketing is a proven area. Numbers of users both domestic and international have been growing, hurdling over any financial crunch. It has also been a haven for people browsing for bargains, why not position your product or service to potential markets even on a global scale?
Marketing services and specialties in areas of copy writing, ad layout and designs can also be acquired at affordable rates. Outsourcing to low-cost regions can acquire you professional talent without having to deal with operational costs in facilities and equipment.
Outsourcing your company's marketing needs in research, support and writings is a sound action in proactively preserving your relationship with present customers as well as making information your products or services more attractive, accessible and available to new customers.

Outsourcing Solutions, Inc.
– your outsourcing partner!
References:
Comments
Recommended Providers
Recommended Articles
Ask the Expert
Please
click here
or send an email to
jeff@outsourcing.ph
with your questions about outsourcing.