Sep
23

September 23, 2008 |

Leave a Comment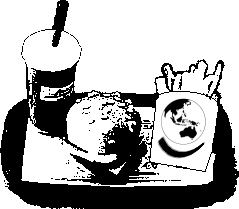 Outsourcing & Food!
Through my humble life experience, I've come to believe that in every human conversation; sooner or later the topic of food is bound to come up. Personally, I find eating to be a divine pleasure and I love talking about food. So, for today I decided to mix two of my favorite things: food and outsourcing.
Food outsourcing is defined as where foods are produced by professional, federally inspected manufacturers and delivered to the food distribution or dining facility frozen or chilled and held as inventory until required.
Food outsourcing has been a common and conventional industry practice. Some could even say that the outsourcing of food materials and manufacture was born and is twin to the traditional food industry practice in which food manufacturers raise, grow, and make what they sell.
For many food entrepreneurs, outsourcing has been a way to develop products without much fixed, tangible capital. There are many labor efficiencies and savings to be acquired within the production processes by utilizing outsourced products.
As some food delicacies and specialties require expensive machinery, Outsourcing leads to lower maintenance costs and utilities usage in the long run.
Outsourcing can also save manufacturers space on the production floor, can be made readily available for functions other than dietary or perhaps use the excess capacity to fill orders for others.
Outsourcing allows food companies to venture on with reduced future capital requirements for production equipment, especially if these companies are still unable to establish or expand manufacturing operations.
Outsourcing can give food companies access to a variety of suppliers for raw materials which could lead to various product possibilities.
Many would consider this "self-serving", but please consider that these companies do still employ people, support the agricultural sector and people do need to eat well and affordably. Reduced costs ought to mean better value products for the consumer as well as profit earnings for the company.
In light of the recent melamine- contaminated milk scandal in China, a similar incident about the same time last year brought a severe backlash against food outsourcing. Many food products were recalled due to food contamination however the recalls were much hindered due to confusion as to which particular food brands were possibly contaminated.
Outsourcing has been deemed by its critics as the culprit to this hampered traceability as well as to the possible contamination of the food products as there is a long supply chain for each product with various contributors, where it is possible that not all share the same vested interest in food safety. The morale here for most food manufacturers is to know their suppliers, regulate their outsourced products as you are regulated, confirm that they share the same quality protocols as you do.
However, outsourcing does not only exist for the food industry in just the manufacturing process. Outsourcing also helps the food industry in serving the consumers as well.
Fast food restaurant chains are now relying on remote call-centers to provide better customer service for their dine-in, drive-thru and online-placed food orders.
Kenny Rogers Roasters, one of the leading fast food retailers, chose to outsource the support-service of its counters or Point-of-Sale, particularly use and maintenance of it's the highly utilized Epson counter printers.
Some Wendy's, Burger King, Panda Express and McDonald's branches have outsourced their online and drive-thru order taking to remote call-centers for order taking as part of a comprehensive order efficiency solution that could lead to increased order capacity, higher accuracy and speed, and improve customer satisfaction.
Langdon Ingredients, Inc outsourced its employee payments, support, and management reports needs and now has cut previous weekly payroll time of 24 hours to 12 hours. It's also reduced administration tasks with self-service facilities for employee leave management, e-mail distribution of pay slips, and automatic group certificate generation in addition to liaising directly with government tax offices.
Schools, hospitals and nursing homes have been outsourcing their cafeteria services to qualified professional caterers to provide better food in terms of quality, safety and variety.
Outsourcing is like any good food recipe; it can be bungled up by ineptness and bad ingredients however when it is done right and with much care, outsourcing can serve many benefits not only for you but for your customers too.
References:
Comments
Recommended Providers
Recommended Articles
Ask the Expert
Please
click here
or send an email to
jeff@outsourcing.ph
with your questions about outsourcing.