Jun
29

June 29, 2008 |

Leave a Comment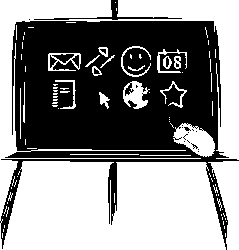 Outsourcing aids Education in the 21st Century
"Teaching methods in the world need to be innovated and should incorporate other factors besides core subjects for tomorrow's graduates to become successful in a globally competitive society."

George Scharffenberger, Executive Director-World Links for the Second National Information and Communication Technology(ICT) in Basic Education Congress held at the Waterfront Cebu City Hotel and Casino, Philippines last 7 September 2006.
Global communications are opening new doors and some doors are opening to the classrooms, virtual ones.
Using simulated whiteboard computer software, web cameras, headsets with microphones and a broadband internet connection, students can acquire further knowledge and progress in their studies from licensed teachers and professional tutors residing in any part of the world at any time of day.
All this for an average of USD20 an hour for personal tutoring through the Internet, compared with USD50 or more charged by the traditional methods of tutoring.
This educational scenario is now increasingly common. Teaching and tutoring is no longer limited to libraries and after-school classroom programs. The availability of powerful broadband Internet connections and interactive software tools allow for instantaneous communication between teacher/tutor and student who are half a world apart.
Students in the United States are able to receive homework help 24/7 from professional tutors in the Philippines which leads to no more sleepless nights because of an important assignments or an upcoming exam.
And what's more, this innovative and interactive environment can even help students cope better with the ever-evolving reality of living and working in a digital age.
Acquiring literacy and competency through computers can prepare them for their future careers, no matter the field, for their career challenges often rely on one's proficiency with upcoming trends in technology.
"ICT literacy is the ability to use technology. But even more, it is the ability to integrate the use of ICT into more effective thinking and learning skills such as critical thinking and problem solving, creativity and innovation, communication, collaboration, contextual learning and information and media literacy…"

George Scharffenberger, Executive Director, World Links
Skills can be acquired through such an study environment where there is no borders, where the common ground is sharing and learning are analytic thinking, problem solving, effective communication and collaboration, global awareness and  civic engagement.
"We haven't found any cultural divide," said Burck Smith, chief executive and co-founder of SmarThinking, an online tutoring firm based in Washington D.C. which employs qualified and licensed instructors in the Philippines as well as in the US. Eliminating factors such as skin color, appearance, gender and accent made the Internet "more egalitarian than most classrooms," he said.
Foreign tutors have observed that a wide measure of the cultural gulf was being bridged when students asked questions such as "How big is your home?" or "What music you like?",  "Do you have friends at work?" or "Can you send me your picture?" The tutors themselves learn also something from their students on life and culture from their part of the world.
This revolution in how education is acquired, knowledge is shared in the 21st century is;  as David "Doc" Searls– senior editor-columnist of the Linux Journal as well as popular Internet blogger, puts it: "[…]that's what happens when we learn something from each other. We're formed by the experience. In other words, we are authors of each other."

Outsourcing Solutions, Inc.
– your outsourcing partner!
References:
Comments
Recommended Providers
Recommended Articles
Ask the Expert
Please
click here
or send an email to
jeff@outsourcing.ph
with your questions about outsourcing.