Sep
2

September 2, 2013 |

Leave a Comment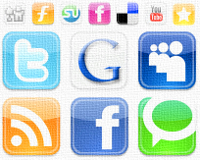 .
.
.
.
.
Companies that jump into social media believe it's as easy as starting a Facebook page. It's not.
Many companies run their own social media campaign and think it's just a matter of signing up in Facebook or Twitter, post info about products and services then new customers will come.
They think it's enough to have a social media presence to let people know that "We're here."
It's not. This is the reason why companies, especially small enterprises, do not benefit from their online presence. They do not understand how to run a good social media campaign.
The Internet has changed marketing since its inception. And still, the field is in constant evolution. The Internet is the equalizer that levels the playing field.
Small or start-up companies can have more aggressive and proactive online marketing, even though they don't have the marketing budget of large companies. This is a different ballgame now in the way marketing is done with social media.
If conglomerates use social media to gain customer awareness and maintain loyalty, there is no reason for small companies can't use social media to their own advantage.
But there needs to be a change in principle that online campaigns are an expense – these are real investments that can potentially yield real returns.
A social media campaign is not about having a page on Facebook, Twitter or Google+. It requires strategy; a combination of good content, and establishing good faith and connections with an audience.
Thus, a social media partner who possess the knowledge and great talent in online people engagement. A social media partner is diligent to analyze social media performance, and take page or traffic insights as both performance report and basis to test-and-innovate campaigns.
A social media specialist can do campaigns based on heuristics, rather than simply post or share content.

Outsourcing Solutions, Inc. – Outsourcing that Works!
Source:
Malazarte, Chris. "Choosing your social media partner."
10 August 2013. The Freeman. Accessed 12 August 2013.
Link Here.
Comments
Recommended Providers
Recommended Articles
Ask the Expert
Please
click here
or send an email to
jeff@outsourcing.ph
with your questions about outsourcing.