Apr
22

April 22, 2013 |

Leave a Comment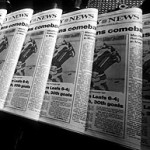 .
.
.
.
Know your Outsourcing.
Outsourcing Opinions provides comprehensive articles and analyses on the current news and information, from world media agencies and authoritative sources, regarding outsourcing and business.
Bullish of the growth of the information technology-business process management industry in the Philippines, Transcom anticipates growth and plans to increase its workforce by a third this year as it expects more clients abroad.
Read more here: BPO firm Transcom to expand workforce by 35 pct this year.
The information technology-business process outsourcing (IT-BPO) industry require employees with skills such as critical thinking; effective written oral, multimedia, and multilingual communication skills; collaboration across networks; creativity and innovation; accessing and analyzing information; initiative and entrepreneurialism; and agility and adaptability.
Read more here: Smarter people needed for call center jobs

Outsourcing Solutions, Inc. – Your Outsourcing Partner!
Comments
Recommended Providers
Recommended Articles
Ask the Expert
Please
click here
or send an email to
jeff@outsourcing.ph
with your questions about outsourcing.