Mar
24

March 24, 2013 |

Leave a Comment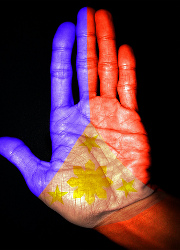 .
.
.
.
.
President of the Philippines, Benigno Aquino III offers the advantages of Filipino workers before potential investors through a keynote speech at the Philippine Investment Forum 2013, Manila Peninsula in Makati City.
Aquino said the intrinsic characteristics of Filipino workers are what investors want from their work force.
The President cited the success of the business process outsourcing industry in which Filipinos have excelled, through creativity, dedication and loyalty.
"Those of you who have long had businesses in the Philippines will understand why I say this. If it's simply a matter of how much you pay for labor, perhaps it is true that there are others in the region who may cost less—but you chose to come here anyway.

You know, as well as we do, that, pound for pound, the Filipino worker delivers: he adapts well to any environment, he is creative and hard working, adept in communicating in English—which is especially important as we strive to be even more competitive globally, and he is loyal.

To give you just one example: Filipino workers have already brought our BPO industry to great heights, in such a short time. Given the opportunity, they will do the same for you, whatever industry you may be involved in."

– Benigno Aquino III, President of the Philippines.
The President also called on investors to partner with the Philippine government, which is in a better position to offer more and meet their needs.

Outsourcing Solutions, Inc. – Your Outsourcing Partner!
Source:
Porcalla, Delon. "Filipino labor is worth hiring."
13 March 2013. The Philippine Star. 
Accessed 20 March 2013. Link Here.
Comments
Recommended Providers
Recommended Articles
Ask the Expert
Please
click here
or send an email to
jeff@outsourcing.ph
with your questions about outsourcing.