Mar
22

March 22, 2013 |

Leave a Comment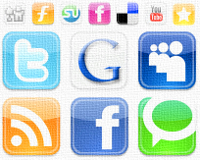 .
.
.
.
.
Social media can help businesses thrive.
Social media can boost a small business, create brand awareness, improve customer relations, generate sales and expand market reach.
Worldwide, social media is already accepted by traditional businesses as an effective tool for advertising, marketing and promotions.
Aside as an effective tool in boosting sales, Social media improves a business' relationships with customers.
It opens channels to a more active customer feedback. Social media can be a tool in knowing the potential customer feedback and needs.
Many companies or brands have been placed in a negative light because of their slow reaction to customer feedback, particularly those online.

Outsourcing Solutions, Inc. – Outsourcing Social Media Provider!
Source:
Cacho, Katlene. "Social Media can boost business."
18 March 2013. Sun Star. Accessed 21 March 2013.
Link Here.
Comments
Recommended Providers
Recommended Articles
Ask the Expert
Please
click here
or send an email to
jeff@outsourcing.ph
with your questions about outsourcing.