Mar
5

March 5, 2012 |

1 Comment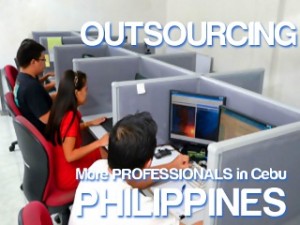 .
.
.
.
.
.
.
The Philippines is an important destination in the global outsourcing Industry and recognized as a premier location for Information Technology-Business Process Outsourcing (IT-BPO) services.
Different enterprises and organizations have pleasant and productive experiences in outsourcing successfully to the Philippines.
The Philippines has one of the highest English literacy rates in Asia due to a college educated society with good English speaking talents.
Being an international business language, English is indispensable for IT-Business Process Outsourcing.
Another advantage is the Philippines has more office facilities and existing infrastructure fitted specifically to cater for contact center operations, medical or legal transcription, I.T and web development on a global scale.
Filipinos are naturally friendly and fairly hospitable, making them the most accommodating and accepting professionals to connect and work with potential clients.
Most Filipino professionals are in their 20′s or 30′s, and work for outsourcing firms because of the highly competitive, attractive salary, benefits and prestige.
The country's IT-BPO industry's aggressive growth confirms Filipinos can deliver superior services in call centers operations and in high-end business and technology functions.
Outsourcing to the Philippines is the best option to achieve cost-efficiency in operations towards greater customer satisfaction and success of enterprise.
And when outsourcing to the Philippines, Cebu is the ideal place for all types of BPO. With its highly educated workforce and strong government-private sector partnerships, Cebu can the best place for outsourcing.
Cebu's local government reserves real estate, specifically for IT services to house new office buildings. Construction firms have invested into these IT zoned areas to build new structures quickly and provide the necessities for large multinational companies to move operations to Cebu.
The province's telecommunications infrastructure is now stable.
To make things easier for foreign investors, tax holidays for IT services through P.E.Z.A registered companies allow more of their revenue to be reserved to scale larger and pass savings to clients for several years.
Every year, the Philippines is affected by the region's typhoon season.
In stormy weather, concern for personal safety prevents employees from going to work, building damage incur losses in investment, and communications are rendered helpless.
Cebu doesn't have these natural problems. Centrally located in the archipelago, Cebu is not located in Southeast Asia's 'typhoon alley' and surrounded by different islands which act as a buffer from the worst tropical storms.
Experts agree Cebu is the place to be. According to global business research firm Tholons, Cebu City is an Emerged Outsourcing City, prime for IT and BPO services.

Full Time Employee Outsourcing – A Successful Cost-Effective Outsourcing Business Model, Learn more!
Comments
Recommended Providers
Recommended Articles
Ask the Expert
Please
click here
or send an email to
jeff@outsourcing.ph
with your questions about outsourcing.