Feb
23

February 23, 2012 |

1 Comment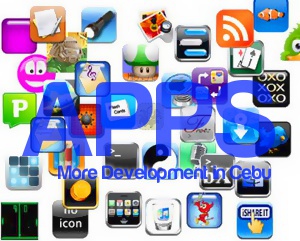 .
.
.
.
.
.
.
.
Cebu's academe sector aims to forge the province as a center for mobile applications development, believing this skills niche is an competitive advantage in bringing more investors and better employment for Cebu's IT graduates.
Mobile technology is fast becoming ever-present, the potential is huge for the Philippines.
Cebu Educational Development for Information Technology (CEDFIT) reports that collaborated works among Cebu's universities and colleges identify each respective niche in mobile applications and platforms, as iOS, Android and similar mobile software are now popular in the mainstream market.
Thus, universities in Cebu are now actively pushing for more studies into Android platform and applications. One of the most prominent is the University of San Jose Recoletos which at present, is doing research project in Sugar CRM (Customer Relationship Management), using Android.
According to the University of San Jose Recoletos (USJ-R) College of Information, Communication, and Technology (ICT)– compared to other mobile platforms, Android is considered most cost efficient. Android-based products and services are also secure and can be designed beyond basic mobile applications, using the open source gateway.
As other colleges and universities are developing their own niche, Cebu will be able to take off in its bid to become a leader in mobile applications development in the Philippines.
Globe Telecoms, and other mobile, and technology companies are partnering with Cebu's universities to design and develop mobile applications that are uniquely for the Philippines.
This is a training opportunity for students to be introduced to the industry trends in the fast moving technology development.
Earlier this year, Nokia introduces "Xtreme Java: National School Mobile App Development Challenge", inviting students to showcase their innovations in mobile applications.
In Cebu, Nokia is in talks with two universities to discover Cebuano-developed innovative mobile apps that have potential for commercialization for Nokia's Symbian-based platform and Windows, Q+ for Symbian, Java and Web apps for S40.
Source:
Dagooc, Ehda. " Academe pushes Cebu as hub for mobile apps development."
23 February 2012. The Freeman. Accessed 23 February 2012. Link Here
Comments
Recommended Providers
Recommended Articles
Ask the Expert
Please
click here
or send an email to
jeff@outsourcing.ph
with your questions about outsourcing.