Jul
31

July 31, 2011 |

Leave a Comment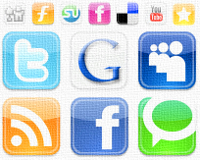 Modern businesses use social media for expanding their presence in the market as seventy-four percent of the world's Internet population visits a social networking/blogging site.
Social networking sites have become an increasingly distinct contributor to boost sales and marketing efforts.
The most common access location for engaging with social media is in the workplace.
Social media usage in the workplace has grown enormously, with about a half of workers surveyed claimed to have a social media presence and 18.5 percent to be personally knowledgeable about or responsible for planning, evaluation or selection of social media within their organizations, Gartner reports.
Although the use is on the rise, many organizations lack acknowledgement of what potential risks and threats that social media can bring, let alone have comprehensive governance policies to regulate their employees.
As a result, the cost of security breaches posed by using social networking platforms might be far greater than their benefits.
With more than 500 million of active users, Facebook is regarded as the most popular social networking site. However, it also presents cybercriminals a new infection vector to spread malware or instigate attacks.
For example, spammers have taken to Facebook to spread malicious links that often lead to the download of malware which puts users in the unenviable position of enticing others to fall for the same ruse.
Like search engines, Twitter has also become a common source of poisoned links. Cybercriminals have made it a habit to keep tabs on so-called trending topics to target those on the lookout for information. Twitter users who click bad links are then led to malware-hosting pages.
The pitfalls of carelessly accesing social networking range from simple redirections to complicated system infections.
In addition to viruses/malware, "like"-jacking attacks, rogue applications and Twitter spam, businesses could also be at risk if their employees post wrong or improper messages or information revealing office location, in-office politics, confidential projects, strategies, or the office climate and other things.
To block threats derived from employee use of social networking sites, there are a few principles that businesses should adopt.
1. Create social media guidelines for employees' behavior and advise employees to be mindful of what they publish online.
2. Deploy and update multilayered protection regularly;
3. Monitor all social media assets and log all communications;
4. Implement a communication and action plan in place in the event of the intentional or unintentional disclosure of confidential company information and;
5. Organize user security awareness campaigns to help employees understand and appreciate the value of the company's information assets and the consequences of these assets being compromised.
Comments
Recommended Providers
Recommended Articles
Ask the Expert
Please
click here
or send an email to
jeff@outsourcing.ph
with your questions about outsourcing.