Jul
31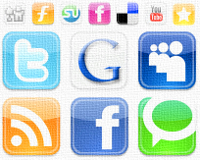 Modern businesses use social media for expanding their presence in the market as seventy-four percent of the world's Internet population visits a social networking/blogging site.
Social networking sites have become an increasingly distinct contributor to boost sales and marketing efforts.
The most common access location for engaging with social media is in the workplace.
Jul
30
Open source software are applications released on a license that encourages sharing, collaboration and building on the works of others.
With developers using open-source components, building on top of these components and making money from it there's definitely good business in open source.
As a lot of companies are adopting and using open source as a means to save cost, they, they don't contribute and extend open source software. That's a niche where Cebu software developers and engineers can come in; invest in development within the global open-source community.
Jul
29
Cebu, Philippines has a lot of potential. When several companies decided to expand, they went to Cebu after encountering difficulty hiring people in Manila.
Initially the headquarters of many quality assurance/testing and tech support facilities for these companies, Cebu has proven its potential through its still untapped pool for software engineers and developers.
Jul
28
From doing things right in 2010, the Philippines' information technology-business process outsourcing (IT-BPO) sector aims for bigger opportunities by 2016.
Filipinos are as good as anybody in the world. Local developers are trainable and are technically sound, with a few areas for progress and maturity.
With the US market still the biggest IT market, Filipino developers are good with collaboration and communication, having an excellent command of English. When projects are received from the US, the Filipinos don't need translators, they can communicate directly with the American client, partners and engineers.
Good developers can actually shift technologies. It takes time and training but ingenuity can come from the right experiences, it spells the difference between a senior developer and a junior one.
To gain experience, local developers need to get more exposure to projects from beginning to end. Local developers only handle bits and pieces in a lot of projects as a lot of the client companies are just sending out maintenance work.
The experience is different from a developer's and technologist's point of view. Exposure to bigger applications, bigger globally-used or certified projects can bring on the experience that nurtures ingenuity.
.
keep looking »