Jun
6

June 6, 2011 |

Leave a Comment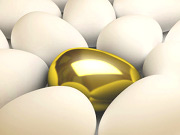 The proverbial goose that lays the golden eggs, Cebu-Philippines can be ultimate global ICT (Information Communication Technology) destination, Asia's "Silicon Valley", as industry leaders fast track the development of a Venture Capitalist (VC) market.
As part of the Cebu Business Month (CBM 2011) celebration, this important plan will be be tackled in "Cebu ICT & BPO Conference" this June 8, 2010 at the Radisson Blu Hotel.
Venture capitalists are business-minded people who support a good concept, offer to fund the idea, and market the product.
The formation of a Venture Capitalist culture in Cebu requires taskful study on how to establish systems and regulations for effective venture capital market in Cebu.
Stakeholders must find solutions on how to build the VC market in Cebu, to maximize the world-class talents in IT in the software development and software engineering skills.
Entrepreneurs and enterprises are encouraged to embrace the VC concept, an indicator of an ICT industry's maturity.
The conference will present the Developers Connect (DevCon) program of the Philippine Development Corporation, in cooperation with the Ayala Group, towards this goal. The DevCon, IT specialists will showcase their abilities in building applications that can be business opportunities for potential venture capitalists.
Venture Capitalism is  known to be profitable, most especially in the IT sector. In other countries, entrepreneurs group together to fund feasible projects, creating successful IT products and services.

Full Time Employee Outsourcing – Professional IT developers and staffers, For Direct Hire!
Source:
Dagooc, Ehda. "IT leaders eye Cebu as Venture
Capital." 6 June 2011. Cebu's The Freeman.
Accessed 6 June 2011. Link Here.
Comments
Recommended Providers
Recommended Articles
Ask the Expert
Please
click here
or send an email to
jeff@outsourcing.ph
with your questions about outsourcing.