Jun
22
Corporate information is on the target list of cyber criminals.  Just recently, a  hacker group is brazenly ramping its antics through cyber attacks targeting even the US Central Intelligence Agency. This exposes how poorly defended many networks are against Internet marauders.
Cyber criminals capitalize on social engineering techniques to break the weakest link in information security structure, the corporation's employees. The recent fake Bin Laden execution videos on Facebook is an example of cyber criminals using the social medium as a means of attack. These attacks employ social engineering tactics that trick people into clicking links that directed to malicious websites and software.
Jun
20
Philippines budget airline Cebu Pacific (CEB) is to acquire 37 new aircraft – the largest single aircraft order ever made by a Philippine carrier – that will double its fleet size by 2021.
The low-cost carrier has placed a new order for 30 A321neo (new engine option) aircraft with options for an additional 10 A321neos. The latter will be a first-of-its-type to operate in the Philippines, being a larger and longer-haul version of the familiar A320. Cebu Pacific has made the largest firm order for the Airbus A321neo aircraft in the world.
Jun
18
Companies, personalities, organizations around the world have chosen social networking as part of efforts to expand their presence and exposure online.  Social networks like Facebook and its Facebook pages are at the forefront of gathering support and connections for a brand, a cause or a celebrity.
If a particular Facebook page has 10,000 fans or "likes"; that's the significant point towards a brand's success.
Here are some prized and proven strategies gain a high following for a brand or organization's Facebook page.
Jun
17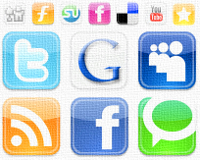 Social networks are more prevalent than ever.  A new survey proves that social networks actually do not isolate people from real-life interactions.
According to the Pew Research Center's Internet and American Life Project; members, or users of social networks like Facebook, "trust" more, thus have more close friends, get more social interactivity and support compared to their non-networked counterparts.
« go back
—
keep looking »