Jun
10

June 10, 2011 |

Leave a Comment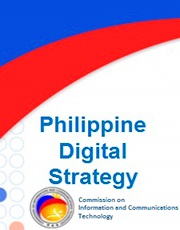 Every month of June is celebrated as the National ICT Month of the Philippines. The month-long celebration features events and activities organized by government and the private sector.
This year's National Information and Communications Technology (ICT) Month, "A Digitally Empowered Philippines", will be the platform for the official launch of the Philippine Digital Strategy (PDS) 2011-2016.
Several milestones have been achieved for the ICT sector, many of these bringing prestige to the country. According to "the Global Location Trends 2010 Report" of IBM Global Business Services, the Philippines is now the world leader in terms of jobs for shared services and business process and outsourcing (BPO) services.
A significant activity this June is the launch of the Philippine Digital Strategy on the theme "Transformation 2.0: A Digitally Empowered Nation."
The Philippine Digital Strategy 2011-2016 aims to contribute to the Aquino administration's "Social Contract with the Filipino People", mainly by leveraging the use of ICT for national development.
The PDS identifies four strategic thrusts, namely: 1) transparent government and efficient services delivery, 2) Internet opportunities for all, 3) investing in people: digital literacy for all, and 4) ICT industry and business innovation for national development.
The strategy presents a renewed vision for ICT and its importance in transforming Philippine society into a competitive force in the global digital economy by the year 2016.
The PDS is also aligned with the principles and thrusts of the ASEAN Information and Communications Technology Masterplan (AIM) 2015, which was adopted in January 2011. AIM 2015 was developed to serve as a guiding document to advance ASEAN regional ICT cooperation.

Full Time Employee Outsourcing – Direct Hire IT specialists and developers!
Source: 
"New PH digital plan to highlight National ICT Month." 
8 June 2011. Newsbytes Philippines. Accessed 9 June 2011.
Link Here.
Comments
Recommended Providers
Recommended Articles
Ask the Expert
Please
click here
or send an email to
jeff@outsourcing.ph
with your questions about outsourcing.