Apr
4

April 4, 2011 |

Leave a Comment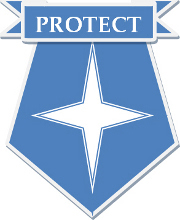 The two-day conference "PROTECT 2011: Doing Business Amidst New Threats", will tackle issues on the necessity to plan, survive and manage recovery from natural disasters, pandemics, cyber attacks and damage to intellectual property of the business community of the Philippines.
Key national leaders have been invited to emphasize the importance of Security and provide expert knowledge at PROTECT 2011: Defense Secretary Voltaire T. Gazmin, National Security Adviser Cesar P. Garcia Jr. and Secretary of Transportation and Communications (DTC) Jose P. de Jesus.
The Department of Transportation and Communications (DTC) is the partner agency of PROTECT 2011, now on its sixth year.
With its role as builder and promoter of critical infrastructures, the DTC strengthens the government-private sector preparedness for disaster through networking and sustaining awareness for updated means for disaster preparedness.
Other resource persons in PROTECT 2011 come from international agencies, government and the private sector: United Nations, ESCAP, Aviation Security International, International Centre for Political Violence and Terrorism Research (Singapore), Hewlett Packard, Nanyang Technological University, Huawei Technologies, RSA-EMC, DoST, IPO, AIM, Business Profiles, Axis Communications and the Institute of Strategic and International Studies.
There is a session on strengthening community and business resiliency which includes the role of new media and technology, securing critical infrastructures, building a "smart city" and developing public and private sector partnership for low-cost effective emergency management and business continuity.
Another important session of the conference will be the introduction to the delegates of the latest technologies for network video by AXIS Communications of Singapore, the future of surveillance by Panasonic, building an e-city by Huawei Technologies and protecting business-critical processes by Kaspersky.

Full Time Employee Outsourcing – Business Continuity & Disaster Recovery!
Source:
"Business community assembles for disaster preparedness." 3 April 2011. The Manila Bulletin. Accessed 4 April 2011. Link Here.
Comments
Recommended Providers
Recommended Articles
Ask the Expert
Please
click here
or send an email to
jeff@outsourcing.ph
with your questions about outsourcing.