Apr
22

April 22, 2011 |

Leave a Comment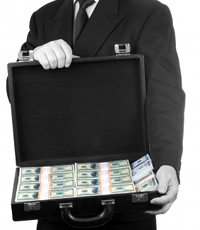 .
.
.
.
.
.
.
Looking for investors to help fund your business or start-up?
Perhaps it's best to first seek out in your vicinity rather than trying to meet up with investors in other states or countries, as investors based in your locality can be more "friendly" and are more familiar with the current business environment.
Here are some tips to help you find and land your local investors to help finance your business, provided by Harry Cochran, CEO of Sinohub,  an electronics company which manufactures custom-designed mobile phones for customers in developing countries,   during a money and investment forum in Cebu City, Philippines.
♦ Find investors online.
As information is available and accessible on the Internet and business/ professional social networks like LinkedIn, Focus.com, Spoke and Yahoo! Kickstart, these allow entrepreneurs to find the kind of investors they can communicate and do business with convenience.
♦ In searching online, look for local investors first.
This is because they could be aiming for similar businesses or enterprises to invest in. Investors based in your city, state or country make it also convenient for communications as well as travel for meet-ups.
♦ Develop your "elevator pitch" for your start-up or business idea.
An "elevator pitch" is a key concept of one's enterprise that's able to convince the potential investor to pour money in your business during a short elevator ride. It just takes 30 seconds to interest them.
♦ In presenting the enterprise or start-up's "story", it is best to keep things simple and sweet.
Though it is vital that your enterprise' information, background, formation and development are detailed and specified, what the investor/s are watching out for is the business' people passion and professionalism about what they do in regards to the enterprise.
♦ Don't claim that there is no competition for your business/enterprise.
It could be taken that there is no market for your business' product or service.
♦ Be cautious, don't bring up the amount of money at the beginning of the presentation.
You should first figure out the highest amount you can ask for without turning the investor away, however make sure this is enough. Once you set a price, it should not get higher.

Full Time Employee  Outsourcing – Professional, dedicated employees for BPO operations!
Source: 
Aznar, Mia. "Seek local investors, firms told." 
20 April 2011. Sunstar Cebu. 
Accessed 22 April 2011. Link Here.
Comments
Recommended Providers
Recommended Articles
Ask the Expert
Please
click here
or send an email to
jeff@outsourcing.ph
with your questions about outsourcing.