Apr
29

April 29, 2011 |

Leave a Comment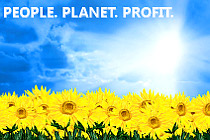 .
.
.
.
.
A business thrives when its community also thrives. Entrepreneurs and executives should include corporate social responsibility into their organizations' business agenda.
Corporate social responsibility (CSR) must be an integral part of an organization's business operations. A company cannot exclude itself from societal issues of the community and its consumers/customers.
Corporate social responsibility, also called corporate conscience, social performance, or sustainable responsible business, is a form of corporate self-regulation integrated into a business model.
Through CSR, a business can monitor and ensure its active participation and compliance with ethical standards, legal and international norms.
CSR's objective is for the company to embrace responsibility for its actions and encourage proactivity to have a positive impact on the environment, consumers, employees, communities, stakeholders and all other members of the public sphere.
CSR-focused businesses promote community growth and development and voluntarily eliminate practices that harm the public sphere and its interests. CSR is the deliberate inclusion of public interests into corporate decision-making. The core business of the company or firm honors in order: (1) People, (2) Planet, then (3) Profit.
Members of the business sector can be a formidable force for better change, with the discipline and clout to follow through on community development projects.
In the long run, these social investments come back to benefit the company, in terms of positive promotions and customer loyalty. Companies in the private sector should be cooperate of the community development with the public sector in areas such as environment protection, tourism and social welfare.
In organizing corporate social responsibility activities, careful thought and planning must go into fund management, technical supervision and progress monitoring so that projects are implemented well and cost-efficiently for the company and its affiliated sponsors and donors.

Full Time Employee Outsourcing – Software Development Outsourcing!
Source:
Aznar, Mia. "Make CSR part of business agenda."
27 April 2011. The Sunstar Cebu. 
Accessed 28 April 2011. Link Here.
Comments
Recommended Providers
Recommended Articles
Ask the Expert
Please
click here
or send an email to
jeff@outsourcing.ph
with your questions about outsourcing.