Dec
27

December 27, 2010 |

Leave a Comment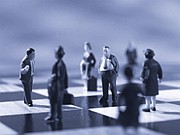 Professor of economics and Cebu Business Club executive director Fernando Fajardo recommends the necessity of a competitive strategy to meet an enterprise's own objectives in order to stay afloat in an economic crises.
.
Without the right competitive strategy, a business is bound to fail.
In formulating a good competitive strategy, always starts with environmental scanning.
During the 2010 Year-End Executive Economic Briefing of the Cebu Business Club and the Mandaue Chamber of Commerce and Industry, Professor Fernando discusses more on environmental scanning as an effective tool in business strategy planning.
An ideal competitive strategy takes into consideration an enterprise's internal and external factors, such as the personal values of key officials, industry opportunities and its threats, company strengths and weaknesses and broader societal expectations.
Environmental scanning is the gathering and analysis of information that covers the macro-economy, including the gross domestic product, unemployment, inflation and interest rates, consumer and investor confidence, inventory levels and the stock market, currency exchange rates, trade balance and balance of payments, financial and political health of trading partners and future trends.
Generic competitive strategies include differentiation, overall cost of leadership and focus– where the enterprise's product/s or service/s must be unique and that the cost for production/provision must be as low as possible. The product or service should also appeal to a segment of the market that competitors have not considered.
Though these strategies could be in place, there are still risks.
Risks of cost leadership in competitive strategies are new technologies that can threaten past investments.
Newcomers in business enterprise could learn to lower their own costs by imitation.
Professor Fajardo, however, warned against putting too much attention on cost. A business owner/executive should not neglect to spend money to make money, particularly on marketing.
As for differentiation, Fajardo said the cost differential between the firm and those of competitors with lower cost could become too great and buyers could learn that the brand is not as unique as it claims to be. He said imitation narrows differentiation and that in some cases, the difference may be imaginary.
These days, financial gains and losses are not the only things that matter in the business.
There must be a balance to be achieved in order for a business to do well, a balance between objectives, measures, targets and initiatives in terms of financial gains, customer satisfaction, internal business processes and learning in growth.
All four factors: objectives, measures, targets and initiatives, must be held together with vision and strategy.
.
.

Outsourcing Solutions, Inc. – your outsourcing partner!
.
Reference:
Aznar, Mia. "Strategy–Key in Business Survival." 20 December 2010. The Sun Star. Accessed 21 December 2010.
Link Here.
Comments
Recommended Providers
Recommended Articles
Ask the Expert
Please
click here
or send an email to
jeff@outsourcing.ph
with your questions about outsourcing.