Nov
21

November 21, 2010 |

1 Comment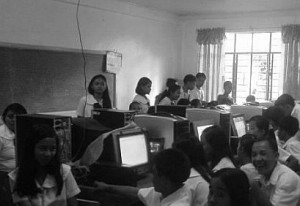 .
.
.
.
.
.
.
One of the problems of Cebu's BPO industry is the need of qualified applicants for call center companies.
There are many BPO companies in Cebu City, though the number of qualified applicants seem to fail to meet the demand. Even as applicants will be accepted, they would still have to undergo speech training before hiring.
An effective English speaking program in highschool could be a good solution, so the city government will implement a separate "English class" in public high schools next year.
This aims to help prepare students for a career in call centers and other offshore services in the BPO industry. Cebu City Hall would allocate at least P2 million for an English program that will focus on conversational speech and other aspects of language. The program would possibly be implemented next school year.
The English subjects of the Department of Education focus on grammar. The separate English program of the city will be concentrating on English as a conversational language to prepare students to enter the BPO world.
Public school English teachers will undergo training from leading BPO companies with the city government paying for the training.
The separate English class would be done everyday after regular classes and will be offered as a a voluntary subject, targeting first year high school students.
.

Outsourcing Solutions, Inc. – your outsourcing partner!
Reference:
Tabada, Fatrick. "Cebu City to train high school students for careers in BPO." 14 November 2010. Cebu Daily News. Accessed 16 November 201. Link Here.
Comments
Recommended Providers
Recommended Articles
Ask the Expert
Please
click here
or send an email to
jeff@outsourcing.ph
with your questions about outsourcing.