Oct
19
Businesses in the Philipines look forward to stretch out gains in the remaining quarter of 2010, buoyed by high confidence in the new Presidential administration of Benigno Aquino III and the bullish run of the financial markets.
It's beginning to look a lot like Christmas.
Oct
15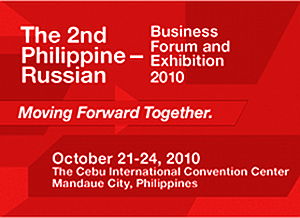 The Philippine Russian Business Assembly (PRBA) is involved in business projects that aims to improve economic ties between the Philippines and Russia. Their flagship forum, the Business Forum and Exhibition is now running on its second year this 2010.
If you're a businessman or an investor looking for new markets or promising products/services from both Russia and the Philippines, this will be the ideal event.
Oct
13
The Business Processing Association of the Philippines' second International Outsourcing Summit will have this agenda for 2010– "Global Market Leaders Addressing Global Issues", where top global industry execs will discuss the future of BPO and off-shore outsourcing with insights on expansion opportunities, complex challenges and transformations of the industry.
Executives in the offshore outsourcing industry from 15 countries are attending the three-day summit, which will feature exhibits, gala dinners, and site tours. There will be also a conference facilitated by a Chairman's Panel of C-level executives in industry-leading BPO services providers.
Respected analysts and industry experts will participate in the summit through sessions and panel discussions. The summit will be held this October 25 to October 27 at the Sofitel Philippine Plaza, Pasay City-Manila, Philippines.
To know more of the Internat'l Outsourcing Summit and how to register, check out here
Oct
6
Get the latest business and travel news in BPO hotspot, Cebu-Philippines! This week: the latest construction in Asiatown IT Park, a new major resort in Cebu, and many more!
« go back