Oct
15

October 15, 2010 |

Leave a Comment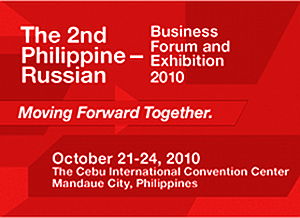 The Philippine Russian Business Assembly (PRBA) is involved in business projects that aims to improve economic ties between the Philippines and Russia. Their flagship forum, the Business Forum and Exhibition is now running on its second year this 2010.
If you're a businessman or an investor looking for new markets or promising products/services from both Russia and the Philippines, this will be the ideal event.
The PRBA Business Forum and Exhibition will be held this October 21 to 24, at the Cebu International Convention Center, Cebu, Philippines.
Participants of the event will be given many benefits, among of which are:
Free 1-year Membership in the PRBA
Inclusion in the Official e-Directory to be distributed to various chambers of commerce in Russia and the Philippines as well as embassies and other government offices
Long-term access to information on the Russian and Philippine markets
Long-term assistance with linkages between Russians and Filipinos
Companies and organizations are also invited to be an exhibitors in this international expo, a venue for trade opportunities between both countries, where one can have access to a unique mix of delegates and showcase products and services to international buyers and investors.
For inquiries, please send these to info@prbai.com or call (+6332) 3436127 and (+6332) 2683068.
For more information of what the forum can offer entrepreneurs and executives, please head over to the PRBA Business Forum Expo webpage here
Comments
Recommended Providers
Recommended Articles
Ask the Expert
Please
click here
or send an email to
jeff@outsourcing.ph
with your questions about outsourcing.