Dec
25
Outsourcing Opinions wishes everyone around the world a merry merry Christmas and happy holidays.
Good tidings, good cheer to all far and near!
2009 has indeed more than its fair share of woes, so let's do what we can to help each other recover and in doing so help ourselves. Let us heal the world and let everyone feel once more, it's Chrismastime!
Dec
22

Allan Batuhan of Sun.Star Cebu Daily explains key basics regarding the global enterprise phenomenon which is business process outsourcing (BPO) and its importance in the Philippines in layman's terms.
Read his introduction into BPO here.
Dec
22
As Global Services-Tholons' number one emerging destination for business process outsourcing worldwide for 2009, the Philippine island of Cebu levels up to attract a huge chunk of the global knowledge process outsourcing industry (KPO).
According to a Business Process Outsourcing insider, there is optimism that Cebu could leverage with industry stakeholders, including the Cebu City government,  on encouraging college graduates to take up graduate studies as to attract the emerging KPO industry, described as a higher level outsourcing service.
Learn more about this development here
Dec
21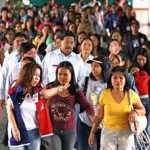 The Philippine outsourcing industry is in the pink of health and growing due to its competent human resources (HR).
NorthgateArinso, a United Kingdom-based HR solutions company, in fact, has decided to expand its global delivery center and Asia Pacific headquarters in Manila.
In a recent briefing to the press, NorthgateArinso opened a new BPO center in the Philippines that currently employs 235 people, providing full human resource servicing and back-office operations.
Read more about this here
« go back
—
keep looking »