Dec
9

December 9, 2009 |

Leave a Comment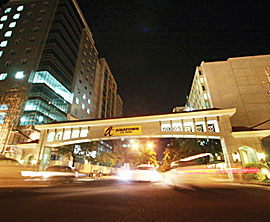 Know the latest business and IT developments of prime, off-shore business process outsourcing destination– Cebu City, Philippines.
India Inc's inks new trade deals with the city-island as well as the US global business NCR, Inc declares expansion plans for its captive facility in Cebu.
The Cebu Chamber of Commerce and Industry (CCCI) trade mission to India conducted last November successfully had series of business matching with the Progress-Harmony Development Chamber of Commerce and Industry (PHDCCI), Federation of Indian Export Organizations (FIEO) and the India Chamber of Commerce and Industry.
The trade delegation also took part the India International Trade Fair, where business opportunities and trade partnerships in construction and tires, garment and accessories, steels and tiles, chemical and wellness, call centers and furniture, tourism and academe were established.
According to Indian Ambassador to the Philippines Rajeet Mitter, there are many opportunities Indian businessmen can explore in Cebu as the Information and Communication Technology (ICT) center in the Philippines. The island of Cebu is a well-known site for IT and BPO expansion  for India's large IT companies like WiPro and Infosys.
If the stronger trade relations were to be established soon, Cebu could take advantage intensely of India's advancement in the IT and BPO sectors.
Global technology company NCR (National Cash Register) Corporation expands its operations in Cebu with an additional 400-seat facility.
The Cebu operations, is part of the NCR's brain in supporting and developing assisted and self-service solutions, backed with comprehensive support services, to address the needs of retail, financial, travel, healthcare, hospitality, entertainment, gaming and public sector organizations in more than 100 countries.
According to NCR-CDCI Engineering head Victor R. Silvestre, Cebu provides good working environment, and good resources of manpower.  NCR Cebu hires software and hardware developers from all over Cebu, and neighboring provinces.

Outsourcing Solutions, Inc. – your outsourcing partner!
References:
"Cebu bizmen ink trade deals with Indian firms." 9 December 2009. The Freeman. Accessed 9 December 2009. Link Here
"NCR expands Cebu operations."  9 December 2009. The Freeman. Accessed 9 December 2009. Link Here
Comments
Recommended Providers
Recommended Articles
Ask the Expert
Please
click here
or send an email to
jeff@outsourcing.ph
with your questions about outsourcing.