Aug
15

August 15, 2009 |

Leave a Comment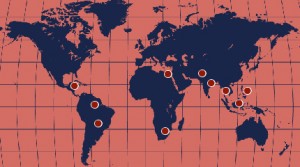 The World's riskiest outsourcing destinations have been determined by the US-based Black Book of Outsourcing 2009 (BBO), ranking cities on factors like terrorist threats, uncontrolled pollution, corruption and organised crime, unstable currency, geo-political conditions and unsecured network technology.
According to the 2009 Black Book on Outsourcing, the riskiest places to outsource are:
Bogota, Colombia
Bangkok, Thailand
Johannesburg, South Africa
Kuala Lumpur, Malaysia
Kingston, Jamaica
National Capital Region, India
Manila/Cebu/Makati, Philippines
Rio de Janeiro, Brazil
Mumbai, India
Jerusalem, Israel
Yet several of these places, particularly those located in Asia and South America are progressively booming in regards to off-shoring and outsourcing business.
The BBO's risk rankings may have basis but it does not completely reflect the trend that global enterprises are still investing in these areas. Risks are inherent in any human venture, that is why solutions and strategies are developed to mitigate them– to turn minuses into monies.  And what fun will there be in business ventures, if there are no elements of risk?
Perhaps the BBO did not consider the prized-and-proven adage in business– where treasure lies, there be dragons.
The higher the risks, the greater the rewards.

Outsourcing Solutions, Inc. – your outsourcing partner!
Reference:
"Top 10 Riskiest Outsourcing Locations." Economic Times of India. Accessed 14 August 2009. Link Here
Comments
Recommended Providers
Recommended Articles
Ask the Expert
Please
click here
or send an email to
jeff@outsourcing.ph
with your questions about outsourcing.