Jul
16

July 16, 2009 |

1 Comment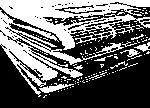 Know your Outsourcing business.
Outsourcing Opinions provides links to comprehensive articles and analyses on the current news and information, from the world's business media agencies and authoritative sources on outsourcing .
Aligning Sales and Marketing
The marketing and sales departments' traditional roles is the source of the failure to align correctly. Despite such differences, there are ways for them to work and succeed together.
Changing the business culture to a more cohesive one, cultivating joint accountability for performance.
Standardize definitions regarding stages of the buying cycle.
Marketing must take accountability for buying cycle influence.
Increase quality, decrease quantity by scoring leads
Integrate sales and marketing technologies
Periodic meetings between Sales and Marketing
Measure what matters, such as lead-to-sales conversion rates, pipeline thickness, number of new opportunities, bid-to-win ratios and revenue.
Sales should pass Leads back to Marketing.
Learn more how to make good use of these 8 approaches here
Asia, World Leader in Global Recovery
Batterymarch Financial Management senior fund manager states Asia still has higher growth characteristics than developed markets. Know more of his insights regarding this here
India still King of Outsourcing
According to global management consultancy AT Kearney, India continues to be the most preferred destination for offshore IT and back-office functions, despite the backlash against the country.
Learn more about this here
Investors Upbeat about the Philippines
The recent quarterly survey by Dutch financial giant ING shows that investor sentiment in the Philippines has turned more upbeat in the second quarter. Read more about this here
The Central Bank of the Philippines, Bangko Sentral ng Pilipinas also report a record high of USD1.48 billion of remittances received in May. Learn more about this boon here
Philippine SMEs turning to new business technologies
Technology companies are focusing on aiding the country's small-to-medium enterprises as these   demand the same type of products and services availed by larger enterprise firms. Read more about this development here.
Advertising Budgets still Whole
The last option of a company in times of crisis is to let go of the advertising budgest as business needs to beef up advertising allocations to stay in touch with the market. This is evident in many of the Philippine enterprises drive to make their brands consistently prominent in the consumers' attention.
Read more about this drive here
Comments
Recommended Providers
Recommended Articles
Ask the Expert
Please
click here
or send an email to
jeff@outsourcing.ph
with your questions about outsourcing.