Jun
17

June 17, 2009 |

Leave a Comment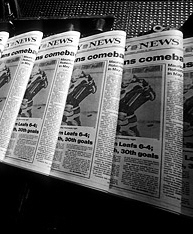 Know your Outsourcing.
Outsourcing Opinions provides comprehensive articles and analyses on the current news and information, from world media agencies and authoritative sources, regarding outsourcing and business.
E-commerce your way out of Recession
A strong, consistent e-commmerce strategy could be your business' ticket out of the downtown spiral named Recession. Read how you can achieve benefits such as increasing sales from cross-selling and up-selling here
India Inc pursues possibilities and profit
India's slowdown-struck business process outsourcing industry is expected to meet better times in the medium-to-long term as the downturn gives opportunities for Indian firms to acquire businesses off-shore. Read more about this positive outlook here
Nasscom persists in statements that the global financial crisis could only spur greater demand for the global delivery of cost-effective back-office services from new market destinations.
Read more about this here
Wipro BPO recent pursuits prove Nasscom's case in point. The company aims to cement 4 to 5 mega-outsourcing contracts worth between USD60 to USD150 million from Forbes 500 companies, leaders in telecom, healthcare, banking & financial services and retail space.
Learn more about Wipro BPO's goals here
The Philippines' positive progress
Goverment and enterprises' efforts help maintain the rate of unemployment quite close to that of last year, despite the downturn. Learn more about the country's current employment situation here
BPO firms in the Philippines may be part of the reason why the country is keeping low unemployment rates as these continuously ramp up on personnel.
A survey conducted by the Business Processing Association of the Philippines and Outsource2Philippines (O2P) revealed that 49 percent of BPO companies were still keen on expanding their headcount by between 11 to 200 percent this year. Read more on this here and here
New legislation offers another form of holding real estate in the country to attract both local and foreign investment into real estate with its attendant multiplier effect on the rest of the economy, fueling growth. Know more about House Bill 6379, otherwise known as "Real Estate Investment Trust" or REIT here
Read more news on the developing Philippine economy here
Comments
Recommended Providers
Recommended Articles
Ask the Expert
Please
click here
or send an email to
jeff@outsourcing.ph
with your questions about outsourcing.