Jun
14

June 14, 2009 |

Leave a Comment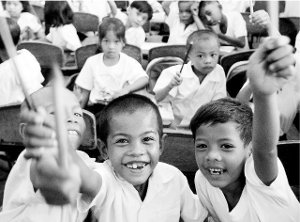 June 15 of this year marks the real opening of many of the Philippines' colleges, schools and university campuses. Students line through corridors, file in their classrooms and take their seats for today, the first of many days to earn the futures.
The Business of Education.
Education is always important but it is only in recent years that business organizations and enterprises have invested interest in how academic institutions plan curriculums and prepare students.
This indicates a first-level, proactive intiative by companies and business groups to ensure that the quality of the future members of the talent pool are up-to-standard, meeting the ever-evolving requirements of industry and innovation.
Improve Basic Education
A major issue that is hounding the country's human resources is the annually present lack of competent skills of many fresh graduates applying for jobs, particularly the skills of critical, independent thinking and effective communication.
A conclusion from the resuls of a recent survey performed by the Managers Association of the Philippines (MAP) can be that academic institutions are producing the graduates with the proper competencies for a specific career in a specific industry.
For example, the said survey showed that in the Visayas region of the Philippines, only 54 percent practicing doctors were able to pass competency levels based on the instruments by the country's Department of Health. Only 56 percent could correctly admit a patient while 42 percent can administer correct drugs.
The solution to this 'incompetence' issue is to address the problems persistently plaguing the country's basic education system, the retention and participation of elementary and high school students, in order to improve quality and quantity in the student population who will enter the colleges.
Of course it is up the to national government to enact educational reforms and invest more of the national budget to ensure that elementary and high school students are staying and learning in school. It is also charged to the enterprises to apply the political pressure or incentive to keep this issue a top government priority.
Collaboration between companies and campuses
Other than political pressure, companies can cooperate with campuses to provide the education that can be helpful to the future members of the work force.
Just recently, colleges in Cebu are urged by Medel Nera, partner of SyCip Gorres Velayo (SGV) & Company to coordinate with enterprises in preparing consistent, current internship programs and schedule these internships during periods where business may be slack. This slack season is different for each company.
In such way, companies and enterprises would be more open to receive interns and spend more time in training and knowledge-sharing.  Such mentoring will improve the quality of graduates. Perhaps, such programs can help companies to determine which students are worthy to be invited as future employees.
Educate students to be enterprising with innovation
The President of the Cultural Center of the Philippines invite schools and colleges to encourage the spirit of art, entrepreneurship and the whole-brain approach into the curriculum of their students– to cultivate creativity in the practice of language, mathematics and science.
To do so will generate "innovative thinking" in the students that would be helpful to the creation of new ideas and ventures that may prove to be profitable.
Keep English communication strength consistent
Filipinos are known as adepts of communication, primarly in English. Efforts are made to maintain or improve this strength as well as profit from it through the education of foreign students from Southeast and Central Asia in the mastery of English.
Such as in Cebu, groups are banding together to make the Philippine island to be an international hub for English language learning. Cebu's public officials and representatives from the academe will meet and discuss plans to implement standards and regulations to address problems such as, the lack of centralized control and the quality of training centers.
Educating Potential Leaders
Accenture, a global leader in business process outsourcing services delivery, invests not only in the training of its employees but also in the honing and development of its leaders.
Through itsExecutive Capability and Capacity Development (ECCD) Program, Accenture managers and executives' leadership capabilities and capacity are being developed. The program is comprised of a series of customized initiatives like action learning through real life project assignments, focused coaching program by senior leaders, and interactions with global & local Accenture leaders.
All these initiatives and actions prove that other than a necessity, Education is also an opportunity for careers and business.

Outsourcing Solutions, Inc.
– your outsourcing partner!
References:
Comments
Recommended Providers
Recommended Articles
Ask the Expert
Please
click here
or send an email to
jeff@outsourcing.ph
with your questions about outsourcing.