Apr
26

April 26, 2009 |

Leave a Comment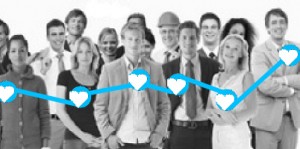 Social networking services can provide means to build up your company's brand, attracting new customers and ideas. You can can set up a fan page on a social site like Multiply, Myspace or Facebook for your product or service and encourage interaction with people.
Through a genuine persona, prospective customers can come to trust your brand and your company.

Social networking services can also acquire member information from the sites and build databases around consumer demographic, psychographic, lifestyle and personality parameters.
The challenge is in knowing just precisely where to market. That is when social network analysis comes in.
Social network analysis views social relationships in terms of "nodes" or individual actors within the networks and their "ties" or relationships between nodes.
The resulting graph-based structures are often highly complex, due to the many varieties of ties between the nodes.
There are two graph-based structures that can be derived from analysis of social relationships.
Micro social graph is a graphical representation or data map of a unique individual person's identity and real-world network of activities and relationships.
Macro social graph is produced from analysis of a large set of these micro-graphs, based on second-degree connections. This type of data map illustrates interconnections among people, groups and organizations in a social network.
Presently there is software available to support social network analysis, o identify, represent, analyze, visualize or simulate nodes and relationships.
Then Metrics are executed based on network views, measuring what is mapped. The most popular network metrics include elements like density and cluster analysis.
From social network analysis, there are many kinds of marketing tools can be used in scholarly research, or for business purposes:
Conversational Marketing. The engagement of social media by a corporation to promote its product or brand.  Different from conventional customer contact, the company can enter into an online dialogue that is stored publicly in a forum or blog.
Influencer Marketing. Focus is placed on specific key individuals who have influence over potential buyers and marketing activities are oriented around them.
Affinity Group Marketing. Existing groups of customers who are already interested in a certain product or service are targeted. Marketers can leverage relationships and the existing brand, loyalty, attention and buying power of the group.
Word of Mouth Marketing. The passing of information from person to person. Word-of-mouth encompasses a variety of subcategories, which includes "buzz", "blog", "viral", "grassroots",
"social media marketing", "consumer-generated media" among others.
Reference:
Madden, Ned. "Making Social Networks Pay, Part 1: Strategies and Technologies." 21 April 2009. CRM Buyer. Accessed 25 April 2009. Link Here
Comments
Recommended Providers
Recommended Articles
Ask the Expert
Please
click here
or send an email to
jeff@outsourcing.ph
with your questions about outsourcing.