Dec
29

December 29, 2008 |

Leave a Comment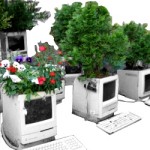 2009 paves the way for new beginnings just as Outsourcing has been a force pushing for innovation and processes not only in business and technology but also for the global interests in the field of environmental entrepreneuship and protection.
Being a major manufacturer, as well as market, for gadgets from mobile phones, notebooks, digital cameras to an array of other electronic products, it has only been recent that the eco-friendly disposal of electronic waste (or e-waste) has become a major concern to countries in the Asia-Pacific.
Now aware of their social and environmental responsibilities, technology companies have adopted many green initiatives in their business agenda. Though a lot of it could be considered marketing hype, it is time that industries convert rhetoric into serious strategies to go and grow green.
Governments guide the way
For example, India's Ministry of Environment and Forests came out with guidelines early this year on safe disposal of e-waste. The new guidelines focus on end-producer responsibility, restriction of hazardous substances (ROHS), best practices of recycling. A new legislation is also being drafted that leads accountability at all levels of e-waste value chain.
A Call to Mother Nature
Handset makers like Nokia, Samsung and Motorola have started product take-back programs at various centers across Asian cities. The Motorola 'Ecomoto' program offers customers means and avenues to recycle old or end-of-life products in an environmentally safe and responsible manner. Such a program is already available at all nine Motorola center in India.
In the Philippines– Nokia, via its local E-cycling program, encourages mobile phone users to donate their old and unused mobile devices, batteries, and other mobile accessories to help save the environment.
For every kilogram of donated materials collected, Nokia pledges to make a donation to "Bantay Kalikasan", a local organization dedicated to the continued rehabilitation of the La Mesa Watershed, which include reforestation cum watershed management projects.
Nokia has posted collection bins in all Nokia Care Centers and select Nokia Stores all over the Philippines as well as in ABS CBN, Ayala Cinemas, and Powerplant Mall for those who want to contribute to the environmental cause by donating their old mobile devices, batteries, and accessories.
Recycling or refurbishing is not the only solution these companies provide. Most of them have come up with handsets which are eco-friendly and cause less damage.
A good example is Nokia's 3110 Evolve, a mobile device with bio-covers made from more than 50% renewable material. The device is presented in a small package made of 60% recycled content.
Similarly, Samsung has manufactured the W510, a mobile phone with 'bio-plastic' that is made from natural materials extracted from corn. The W510 does not contain any heavy metals like lead, cadmium or mercury.
Computers for Conservation
Desktop and laptop manufacturers are trying to ensure that they reduce their carbon footprint.
For every unit of greenhouse gas that goes into computer production and distribution, computer giant Dell will find an equal offset through investing in renewable energy sources or energy efficiency. It is also trying to require major suppliers to identify and report their emissions impact. The company declares that this is the first big step in a long-term strategy to minimize emissions from supply-chain operations.
Hewlett-Packard helps the planet through its 'Planet Partners Recycling Program', offering customers the opportunity to assist them in disposal of used computing equipment in an environmentally responsible manner.
This program is carried out for HP and non-HP computer and printing hardware and original HP inkjet and laser jet print cartridges. In addition, it has a trade-in program, which offers customers cash payments for their old equipment when new products are purchased.
Wipro Technologies also offers 'e-waste disposal service' to its customers, who want to dispose computers, laptops and servers. This is also called take back policy or extended producer responsibility.
Outsourcing the Green Way
Wipro, HCL, Cisco and IBM have ensured green data centers within their organizations and provide consultancy services to set them up for clients.
"We have been helping companies actively in developing a complete road map on green IT including the non-IT elements like infrastructure design, hardware used, et all. The effective management of IT infrastructure helps in reducing of carbon footprint of an organization. We all need to contribute."

Deepak Jain, Vice-president of Professional Services, Wipro InfoTech.

Outsourcing Solutions, Inc.
– your outsourcing partner!
References:
Comments
Recommended Providers
Recommended Articles
Ask the Expert
Please
click here
or send an email to
jeff@outsourcing.ph
with your questions about outsourcing.