Oct
28

October 28, 2008 |

Leave a Comment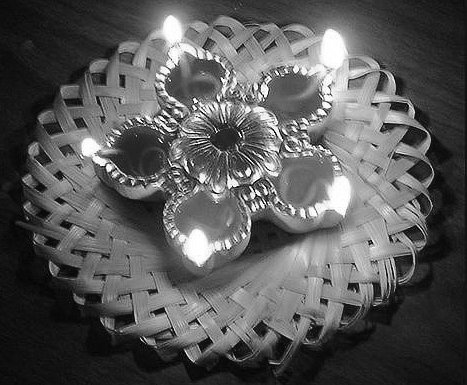 Unstable economies and plunging markets make for dark times, full of uncertainty and fears.  While people are losing jobs and security for a future due to the financial crisis, even the richest of India are not immune.
Based on their personal wealth from their group companies' holdings, Indian steel tycoon Lakshmi Mittal has an erosion of over 31 billion dollars to a net worth of about 13.7 billion dollars now, while that of Reliance Industries' Mukesh and Anil Ambani are said to have been reduced by over 40 billion dollars each since January.
Such losses could only lead to a void in people's minds, an emptiness that even the persistent emotions of fear and anxiety cannot fill.
But in such a void, in such a dark place,  a light can shine best.
So light a lamp to guide your way through the darkness.
The Festival of Lights, or the Diwali, is a significant festival celebrated every 15th of the month Kartika (November) that holds special meaning for many Indians. The lights that burn out the lamps signify the victory of light over darkness, of good over evil in every human heart, through every human act.
Nikhil Walavalkar of Economic Times of India writes that Diwali is an auspicious event to remember one's market lessons in order to survive these dark days and shine again in success.
The gist of the article relates how the festival can teach the following lessons:
Aspirations for wealth must be preceded by right knowledge and information in order to be successful.
Confidence, conviction is more valuable than currency.
Keep emotions in check, calculate with a cool mind on what risks are worth taking.
Learning is a positive opportunity, making the most of any failure.
Having these lessons from the Diwali can serve as guidelines in one's long-term business plans. No matter how long the night may be; with the lights on, one can celebrate continuously and happily.

Outsourcing Solutions, Inc.
– your outsourcing partner!
References
"Crisis Makes for a Dark Diwali for Indian Tycoons." 27 October 2008. Business Week – Economic Times of India. Accessed 28 October 2008. Link here
Walavakavar, Nikhil. "Diwali is the time to learn your market lessons well." 28 October 2008. Economic Times of India. Accessed 28 October 2008. Link here
Casiraya, Lawrence. "SAS to CFOs: adopt business intelligence." 23 October 2008. The Philippine Daily Inquirer. Accessed 26 October 2008. Link here
Comments
Recommended Providers
Recommended Articles
Ask the Expert
Please
click here
or send an email to
jeff@outsourcing.ph
with your questions about outsourcing.