Oct
12

October 12, 2008 |

Leave a Comment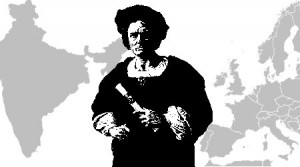 Buenas Día de la Raza! Happy Columbus Day, everyone!
Let us have some Columbus Day Trivia for 300 points.
Christopher Columbus indirectly 'discovered' the Americas by plotting a western trade route via sea towards this country of valued goods, such as spices and silk.
What is India?
Correct for 300 points! Even until the present day; modern multinational corporations such as Citigroup and Aricent, similar to the wealthy monarchies of yesteryear, have directed their efforts in reaching towards India to further increase and improve on their financial goals.
Just goes to show that learning from history and being 'doomed' to repeat it is not necessarily a bad thing.
Tata Consultancy Services (TCS), India's largest IT software and services provider has just netted a USD2.5 billion contract with major American financial services company, Citigroup Inc. This deal just shows the confidence global executives have on Indian software service providers despite current times in providing process outsourcing services, application development and IT support.
Global communications innovation, technology and outsourcing firm Aricent announced expanding its Indian operations in three months, focusing more on customer-oriented services and personnel.
IT companies in India project to acquire deal worth USD 20 million during the IT Fair Gitex where 36 IT firms participate and present their capabilities in infrastructure, hardware, software and services.
Encouraged by India's Ministry of Communications and IT, IT exports are targeting the Middle East markets which hold great promise because of the boom and business friendly environment of the United Arab Emirates, another region which is historically well-documented for wealth and progress.
With these recent developments in India's IT and outsourcing sectors, local firms such as Infosys
Technologies are implementing strategies that anticipates an upturn in current economic events, particularly in talent acquisition. Infosys aspires to hire 12,500 employees by this next fiscal year.
Despite the possibility of utilization slowdown due to fewer projects, the company has enough funds to sustain operations in these present times.

Outsourcing Solutions, Inc.
– your outsourcing partner!
References:
Comments
Recommended Providers
Recommended Articles
Ask the Expert
Please
click here
or send an email to
jeff@outsourcing.ph
with your questions about outsourcing.