Aug
6

August 6, 2008 |

Leave a Comment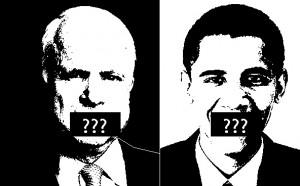 Venture Outsource.com, an authoritative Web resource for outsourcing, off-shoring issues and information, invited the Democratic and Republican 2008 U.S. presidential nominees Senator Barack
Obama (Illinois state, Democrat Party) and Senator John McCain (Arizona state, Republican Party) to share their thoughts on outsourcing, immigration and H1-B visas.
The two presidential nominees were presented three identical questions with the request that these should be responded by July 17, 2008.
The three questions are, as summarized:
1. Your thoughts on reviewing current US immigration policy on H-1B visas for highly-skilled professionals?
2. If tougher US immigration enforcement was implemented, what could be one possible outcome for the manufacturing talent pool?
3. Your thoughts on US Chamber of Commerce President Tom Donahue's comments that critics overlook the benefits of outsourcing and that the US have benefitted more from the migration of money, people and jobs?
On the due date for both nominees' responses to the Venture Outsource website's questions, the conclusion was less than satisfactory.
From Senator McCain's campaign party, a representative claims that the good senator from Arizona intends to answer the three questions presented by VentureOutsource.com but the website has yet to receive these answers and it's way past now of the required response date.
As for Senator Obama, neither he nor anyone from his campaign communicates any intention or interest to answer the submitted questions.
A June 28 Outsourcing Opinions article highlights quotes from public statements made by the two US presidential nominees during their statewide campaigns that can indicate their platforms on outsourcing.
However when faced directly with those three questions, the senators appear to make the same choice.
Either they felt they've had their say on outsourcing and –for the time being– that is enough, there are more pressing issues to focus on or it could be that outsourcing has become such a delicate issue which impacts a lot of segments that the best, appropriate response would be, as politics can dictate, silence– for now.

Outsourcing Solutions, Inc.
– your outsourcing partner!
Reference:
"U.S. Presidential nominees John McCain, Barack Obama on outsourcing, immigration, H1-B visas." 10 June 2008. Venture Outsource. Accessed 5 August 2008. Link here
Comments
Recommended Providers
Recommended Articles
Ask the Expert
Please
click here
or send an email to
jeff@outsourcing.ph
with your questions about outsourcing.