Aug
2

August 2, 2008 |

Leave a Comment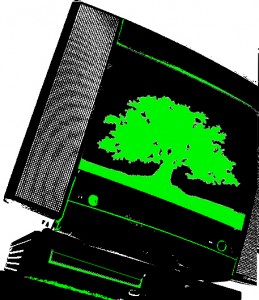 In December 12,  2007, the International Data Corp. (IDC) presented a prediction that an energy-efficient, environmentally conscious information and communications technology (green ICT) will emerge in the Asia-Pacific and become a necessity not only to end-consumers who are becoming more concerned with climate changes and fuel crisis but also to outsourcing vendors who will see green ICT as a way to act a measure of corporate social responsibility and as a sure-clean way to cut back on costs that would definitely appeal to their clients.
India going green full-throttle.
ICT and outsourcing industry leader, India has been first to utilizing green ICT in the face of the present fuel crisis. Highly dependent on electrical power supply, the enterprises of Indian corporations as well as government offices are faced with rising energy bills due to running and maintaining data storage servers.
Modern servers consume four times as more electricity than their predecessors. Idle servers in data centers can consume 30 percent of their peak electricity requirements and usually these servers are idle 80 percent of the time.
This is like driving a car on a road trip; making frequent gas stops and not being aware of the leak in the car's tank— talk about getting to Nowhere and getting there fast.
This needless waste of energy as well as funds have driven Indian companies across many segments in the ICT sector to be pioneers in the adoption and consolidation of computer virtualization of their data storage facilities, combining several hardware systems into virtual machines as one single, powerful system, thereby no longer the requiring original hardware to remain operational with its power and cooling requirements.
The technology is here for the taking.
Presently, Indian and other Asian firms can select from wide choice of green alternatives, provided by large ICT vendors such as APC, EMC, Hewlett-Packard, IBM, Intel and Sun Microsystems.
EMC has been advocating alternative means to conventional ICT infrastructure such as virtualization of infrastructure, "de-duplication" of data and the management of critical and non-critical data.
De-duplication is the reduction of the stored amount of multiple copies of data across a network.
Also, EMC recently presented its latest Power Calculator, designed to analyze and project the power consumption of EMC products. The tool allows companies to accurately estimate their power and cooling requirements, and modify configurations to achieve power provisioning effectively and efficiently.
The same with American Power Conversion (APC), whose future voltage system products are smaller compared to corporate standard power systems, will draw only the required voltage from a power supply and will not draw excess power, thus conserving and decreasing power consumption.
Efficient and reliable infrastructure.
Utilizing green ICT infrastructure can lead to better quality services and products. The funds saved from spending on high electricity costs can be redirected to recruitment and training, server standardization, superior data management tools and future network investments.
VistaPrint, a US online company that provides custom print services, is a success story in showing how getting green can become gold for an enterprise.
The saying "One good turn deserves another" takes a whole new meaning in the aspect of how companies are now making it sound business policy to do good to the Planet, adopting-implementing green ICT,  and being rewarded well in the process.

Outsourcing Solutions, Inc.
– your outsourcing partner!
References:
Comments
Recommended Providers
Recommended Articles
Ask the Expert
Please
click here
or send an email to
jeff@outsourcing.ph
with your questions about outsourcing.