Aug
22

August 22, 2008 |

Leave a Comment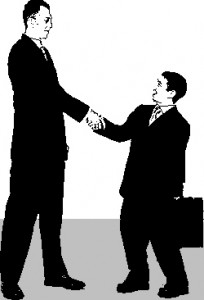 In SMEs Go Global, it is shown that Outsourcing is not beyond the reach of small and medium enterprises (SMEs).
Now a recent university study shows that outsourcing business-to-business solutions can bring SMEs the huge benefits that big companies earn.
Business-to-business (B2B) is the electronic commerce transactions from one business  to another.
For example, a shoe manufacturer sells its wares to a shopping mall which is another company.
Big business brands such as GE, IBM , Intel and Microsoft generate extensively more revenues through their B2B transactions than their sales to end-consumers.
To emulate, companies have been adopting electronic commerce technologies more and more. This is for the following benefits of helping buyers connect to new suppliers and vice versa, reduce the time and costs of B2B transactions, manage payments and track orders and go green using environment-friendly technology.
When companies utilize B2B tools and technology, their operations become agile with improved management of supply and demand, adapt better to changes in sourcing and delivery, and align with their trading partners through better coordination.
Of course, these electronic commerce technologies come with a big price tag so a lot of companies decide to outsource their e-commerce requirements.
A Standford University study has been presented in recent a Supply Chain forum, showing that 75 percent of respondent companies relying on outsourced B2B services achieved a 200 percent return of investment.
Other improvements achieved by B2B outsourcing are established in data quality (31 percent improvement), traceability and accuracy of B2B transactions (49 percent impovement) and payment cycle time (45 percent improvements).
Once again, a way is found for SMEs to do big business much like the multinationals can and even do business with the big brands on possibly an equal footing.
Outsourcing is that way.

Outsourcing Solutions, Inc.
– your outsourcing partner!
References:
"Standford forum unearths big benefits in B2B outsourcing" 21 August 2008. Manufacturing Business Technology. Accessed 21 August 2008. Link here
"Business-toBusiness". 1 April 2005. Wikipedia: The Free Encyclopedia. Accessed 20 August 2008. Link here
Quelch, John. "How to Build a B2B Brand".  20 November 2007. Business Week. Accessed 21 August 2008. Link here
Comments
Recommended Providers
Recommended Articles
Ask the Expert
Please
click here
or send an email to
jeff@outsourcing.ph
with your questions about outsourcing.